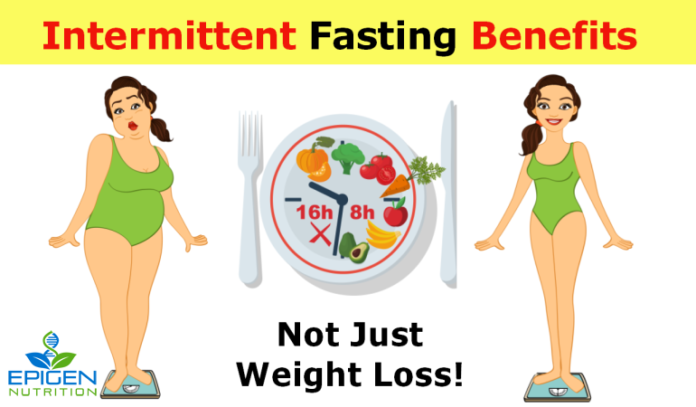 Intermittent fasting is becoming increasingly popular as a weight-loss strategy.
It involves creating an eating habit that includes periods of fasting and periods of normal eating.
For example, one of its variations allows you to fast for 12 to 48 hours straight before eating your regular meals, for the next five days.
This way of eating has benefits that go beyond helping you lose weight and burn fat.
Several studies have found that intermittent fasting has the potential to provide the following benefits.
More Effective Weight Management
Out of all the benefits that are linked to intermittent fasting, the one that is probably the most popular is weight loss.
Eating less reduces how many calories you are taking in, along with lowering your insulin levels, both of which are needed for turning your fat into usable energy.
It has also been demonstrated that intermittent fasting aids in long-term weight maintenance by minimising the amount of weight that is put back on.
Lowering the Chance of Developing Diabetes
Many people are walking around with a condition known as pre-diabetes, and if it is not treated properly or if unhealthy habits, like poor eating and a lack of exercise continue, this can eventually turn into type 2 diabetes.
Being overweight or obese increases the chances of getting diabetes.
One way to lose weight and lower the risk of diabetes is by implementing intermittent fasting.
When you lose weight, your body is able to use insulin more effectively, which means it won't have to produce as much.
This can lead to lower blood sugar levels, which in turn can reduce the risk of type 2 diabetes.
Practicing intermittent fasting can lead to better sleep quality because it aligns your eating patterns with your natural circadian rhythm or body clock.
By eating at the proper times, you improve your body's ability to repair itself leading to better metabolic health.
Eating too much, at the wrong times, or consuming certain foods before bedtime can cause sleep disturbances and weight gain.
Improving your circadian rhythm will make it easier to fall asleep, stay asleep, and wake up feeling rested.
Improve Your Heart Health
According to the British Heart Foundation there are around 550 million people suffering from heart and circulatory diseases across the world.
Intermittent fasting can help towards improving heart health by lowering factors that contribute to heart disease such as blood pressure, heart rate, cholesterol, and triglycerides.
It also helps reduce other risk factors like inflammation and high blood sugar.
Because of this, intermittent fasting is regarded as being beneficial for the heart.
Better Brain Health
Our brain can also benefit from taking up intermittent fasting.
Because it can help with issues such as, lowering oxidative stress, inflammation, high blood sugar, and insulin resistance, all of which are important for improving brain health.
It can also help you learn and remember better, along with reducing inflammation in the brain, which is linked to neurological diseases.
People think that intermittent fasting can help lower the risk of Alzheimer's and other neurological diseases like Parkinson's disease and stroke.
Because it promotes the development of new nerve cells, which can help improve brain function.
Prolonged Life and Slower Aging
Intermittent fasting is becoming pretty popular for people who are looking to slow down the aging process.
Studies have shown that this type of eating can actually boost certain compounds in the body that help keep us looking and feeling young.
And not only that, but it also helps with metabolism and other markers of good health, which can lead to a longer lifespan.
Some studies even suggest that intermittent fasting allows for repair and maintenance processes in the body that wouldn't happen otherwise because of constant food processing and digestion.
Overall, it's not just about weight loss; there are so many benefits to this type of eating.
Plus, even though more research is needed, people can already start reaping the benefits today.